Learn about what we do outside our walls.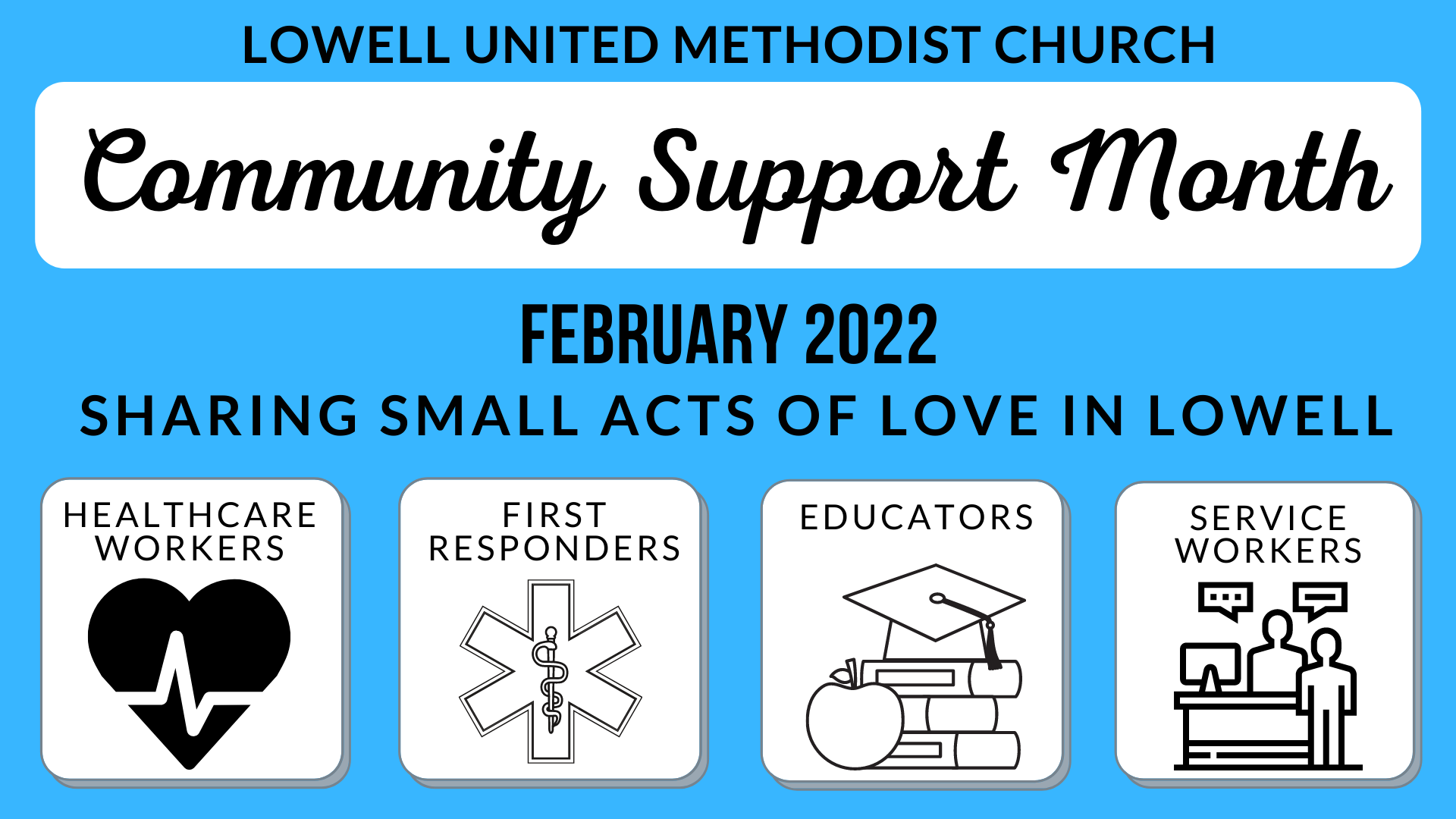 Lowell United Methodist Church has recognized the anxious and stressful times that we are living in right now. Oftentimes the worst behavior in our community is what we focus on. The angry outbursts in public and the hurtful comments made on social media platforms. We have decided to respond to those feelings with LOVE.
Lowell UMC is declaring it to be "Community Support Month". Each week of this month we will highlight a particular field of service. We will draw attention to those working in that field right here in our own community. We will distribute gifts of LOVE to those people in our community and encourage others to join in as well. We hope to flood the streets and social media with encouragement, support and LOVE for the entire month.
The schedule of the month will be:
•Week 1 (starting Feb 6,2022): Healthcare Workers- this will include medical professionals that live in our community as well as those that work in our community.
•Week 2 (starting Feb 13, 2022): First Responders – this will include police, fire, and emergency service workers.
•Week 3 (starting February 20, 2022): Education- this will include those working in our schools including our administrators and board of education members.
•Week 4 (starting February 27,2022): Service Workers- this will include all of those working in restaurants, delivering our groceries, checking us out at stores, changing our oil, picking up our trash and more.
Gift bags for these workers each week will include a sweet treat, a few practical gifts, and a laminated prayer. These gifts are funded by the generous contributions from the people of Lowell United Methodist Church. Each Sunday in February, people will be given the opportunity to take one of the gift bags to distribute out in the community.
As mentioned, we would like to encourage anyone interested in the community to join our efforts to spread LOVE. Individuals are invited to share stories or pictures of their own love sharing ideas for each week by posting to social media and using the "#" (hash tag) LiftUpLowell. (#LiftUpLowell)